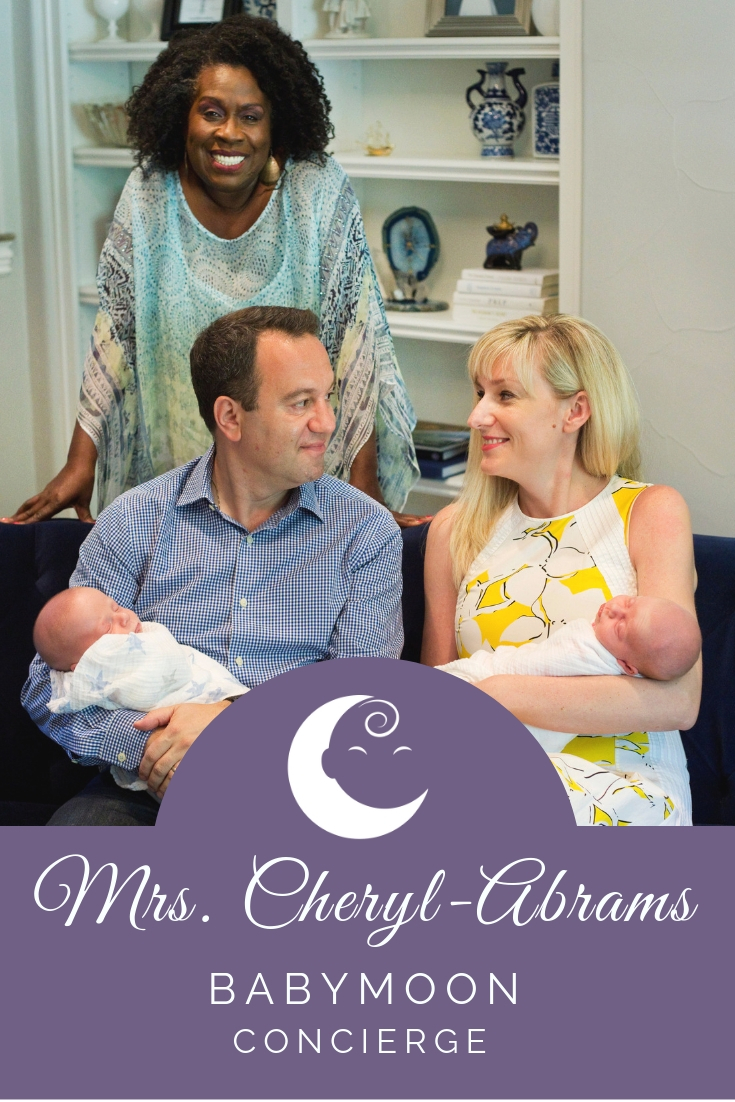 She creates happy, well rested, confidently empowered birth and postpartum wellness clients while offering an empowering modern mothering experience.
This uniquely well-rounded Certified Postpartum Doula, DONA & CAPPA trained in Birth, Newborn Care Specialist, Night Nanny,Texas Breastfeeding Educator, Community Childbirth Educator and Sleep Training and Multiples expertise embodies a well rounded heart centered service.
As if Cheryl's expertise & delicious personality weren't enough; her compassionate world traveled perspective, work ethic and A+ rated postpartum wellness cooking is surely an experience to savor! Cheryl considers herself a Foodie so she loves to cook. She enjoys the challenge of creating meals from around the globe and cooks to perfection.
Her clients' rave about her "Babymoon" client experiences, which embrace whole family wellness.
A "Baby Moon" is a traditional time mom and dad spend together sometimes recreating a get away honeymoon experience at home or abroad before the birth of their first child. My Baby Moon is a custom, redesign into a modern mothering experience solution.
A nourishing, "nesting-in period" curated collaboratively by clients' preferences through a birth & postpartum planning consultation to choose your unique support!

Cheryl goes Beyond The Call Of Duty to recognize every family thrives within their own rhythm. She works hard at creating harmonious confidence in their unique way and she is eager to help you with finding newborn care solutions. This includes any parent who is welcoming multiple babies.

Cheryl designed this signature opportunity for clients to train for their birth & postpartum support journey. She can provide a custom curated, client experience due to her wealth of knowledge, extensive education, insider know how of support methods and applied skill set adapt-abilities. You can utilize her as a Maternity Coach, choose private Childbirth Education Classes and Newborn Education Classes. She is sought out by many Obstetricians and Midwives and other health care professionals to care of their patients. Cheryl warns every prospective client, if you are going to need my help in the future hire me now don't wait because by the time you will need me I will be booked. I'm just that good.
Cheryl is mother, wife and Army Veteran. She's traveled the world and extensively educated herself to provide optimal expert support for families. She has over Ten years experience with postpartum and newborn care. Babymoon Concierge is a top certified Doula Service and Newborn Care service in the Dallas Fort Worth Area.
Background Check And Resume Available Upon Request.

"I would strongly recommend Cheryl Abrams for any available newborn care position. She has a vast amount of experience with children which I feel is important. She is very reliable and will work very hard for any employer".
Dr. Le Giang Dallas TX - Delighted Client